Bonomi expands range of Control Ball Valves
30″ Low Noise Trim, Solid 316SS Control Valve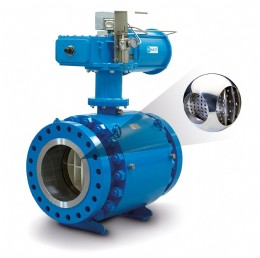 Control Valve with Compressible Fluid (Gas & Steam) Trim
Bonomi has experienced rapid growth in recent years, most notably through the expansion of its group company Valpres, that now offers an extensive portfolio of Control Ball Valves suitable for use in the Oil & Gas sector.
This expansion has prompted Bonomi to establish its own specialist Oil & Gas division, dedicated to meeting the precise needs of contractors operating in this and other industrial sectors, where harsh and demanding working environments exist.
Valpres has an impressive pedigree in ball valve production and development; manufacturing its first valves more than 40 years ago. Today's Control Ball Valve range is designed to meet the rigorous and ever-changing demands of the expanding Oil & Gas sector.
High capacity, combines with large rangeability and the potential for expansion, providing a highly versatile solution. Small footprint units take account of space limitations, whilst low emissions are also a primary focus in product development.
Available in bolted body or welded body designs, the valves come in a range of materials including carbon steel, stainless steel, duplex and nickel alloy and sizes ranging from 1½″ to 42″. Pressure rating ranges from 150 to 2500.
Since their introduction, Valpres's patented Rotary Control Valves have been an outstanding success, representing a new and highly effective approach to controlling captivation and reducing aerodynamic noise.
Multistage cage control valve principles have been introduced in rotary motion devices: A Liquid Service Trim (VP1-L), operational in a temperature range between -196°C and 450°C is suitable for use in conjunction with liquids, pulp and lube oils.
Control Valve with Compressible Fluid (Gas & Steam) Trim The trims' self-cleaning design means that any particle or debris build up is released downstream. Pressure Drop Staging is available in up to 5 stages; splitting the pressure drop in multiple stages to retain minimum pressure above vapour pressure and avoid cavitation, thereby creating a fluid path with sectional changes to lose kinetic energy.
Gas Service Trims (VP1-G & VP2-G), operational in temperatures up to 450°C, are suitable for gasses and steam applications and also have a self-cleaning design.
Possible particles or debris are released downstream by way of the differential pressure generated across plates, creating a suction effect that cleans the hole plates. Pressure Drop Staging in up to 5 stages is available to control and contain velocity, with a side expansion hole to reduce gas velocity.
Trim for bi-directional flow control applications is also available along with customisable trim for severe service applications.
All Valpres' trims have undergone extensive Flow Loop Testing at the Politecnico of Milan test facility, to offer full validation of their CFD analysis, giving customers total reassurance of their high quality.
Tel: 024 7635 4535
Email: sales@bonomi.co.uk
Web:
www.bonomi.co.uk
Published: 31st May 2019