Meeting Industry Changes with Innovate Upgrade & Retrofit Solutions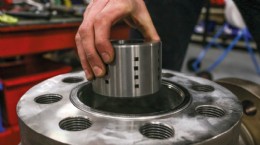 In difficult trading conditions the Oil & Gas industry is depending more on asset life extension to keep installations running safely and effectively for longer.
In recent years our upgrade and retrofits service has helped clients all over the world keep their equipment both effective and fit-for-purpose as requirements and operating conditions change.
Our focus at all times is on optimising the throughput and life span of valve equipment, by designing and maintaining them to withstand even the most severe service conditions.
The unique combination of our specialist engineers, diagnostics equipment and CFD software enables us to design bespoke, innovative solutions to the upgrade and retrofitting of valve equipment with minimal downtime from our fully equipped dedicated aftermarket facility.
Typical projects include upgrading trims to help avoid sand impurities, changing to carbide and shrouded seat design to reduce the effects of cavitation and more.
Subsea Choke Valve Asset Life Extension
Over the past eight years, KOSO Kent Introl has supported numerous clients with upgrades and retrofits to over 70 subsea choke valves operating within North Sea and Norwegian Continental Shelf assets.
We were approached by the International Oil Company (IOC) for support with a major North Sea asset that was experiencing issues with a number of subsea choke valve failures.
The choke valves in question were critical to the operation of numerous subsea Christmas trees and flow control modules.
During the process of sizing a subsea choke valve it is typical for the well life to range between one to five years, any changes to well properties during this period can have a significant effect on its life.
After conducting a detailed analysis of both the changes in well parameters and the OEM's original choke valve design, we were able to make the necessary modifications to the valves design, enabling its successful redeployment for years to come.
In instances such as this one, we have been able to support clients with the enhancement and modification of subsea choke valves, ultimately extending the life and duty cycles of these valves.
Engineering An In-House Vector Retrofit Solution KOSO Kent Introl were approached to support an FPSO in the North Sea with updates and enhancements to an existing water injection dump valve originally commissioned in 1995.
The injection dump valve was previously fitted with an updated trim in 2015, but changes to the operating conditions meant that this was returned after two years of service, meaning a new solution was required.
Upon inspection of the valve it was clear that whilst the body was in fair condition, there was significant levels of erosion to the previously supplied trim. This erosion had been caused by a combination of both abrasion and cavitation owing to high levels of sand content within the injected water.
We were faced with the challenge of designing and manufacturing a smaller, technical solution that would fit within the dimensions of the existing valve body. Enhancements were also made to the valve seat, moving from a threaded to a clamped solution, improving the overall serviceability of the valve.
The upgraded injection dump valve benefitted from our OEM warranty, covering the unlikely event of any manufacturing faults or material defects.
Trust The Experts
Our industry leading professional OEM valve services are delivered by our experienced technical team, many of whom are available for rapid deployment to most locations worldwide. Throughout the process, our focus is on helping you continue to operate safely and cost-effectively with minimal downtime and disruption of service.
Tel: 01484 710 311
Email: info@kentintrol.com
Web:
www.kentintrol.com
Published: 31st May 2019