MEET THE MEMBERS - Duvalco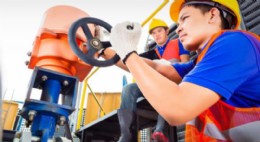 Duvalco UK Ltd is the UK sales office for Duvalco Valves & Fittings Pte Ltd. Established in 1956 in the Netherlands to provide valve engineering solutions and production, today we design and produce standard and custom-made valves in accordance with international standards and customer's requirement.
All manufacturing is carried out under an ISO 9001 quality system in our own factory. Our aim is to offer the highest quality and reliability available and to this end all machining, assembly, rubber gasket production, gate encapsulation and testing is carried out under our direct control.
Duvalco manufacture Butterfly, Gate and Check Valves and Hydrants which are supplied into the Oil & Gas, Marine and Water & Power Industries. Duvalco has multiple international manufacturing sites and sales offices with Duvalco UK Ltd based in Huntingdon, Cambridgeshire.
Tel: 01480 411 333
Email: sales_uk@duvalco.net
Web:
www.duvalco.net
Published in Valve User Magazine Issue 53