Maher's Fab Fundraising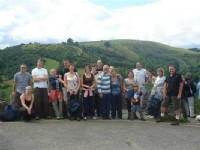 Since Maher adopted Sheffield's Children's Hospital Charity as its' official cause, we have been busy! After launching our support with a raffle for an extra day's holiday, we have been putting our stamina and muscles to the test. In July the team embarked on a 10 mile hike, up-hill and down-dale from Bakewell in the Peak District. Despite some challenging hills (or mountains as some now claim!) a team of 19 (pictured) reached the end, raising £650 for the charity.
One of the main objectives of the charity is to enhance the medical equipment and facilities at the hospital in order to keep it at the forefront of paediatric care. Maher's fundraising is helping their current appeal to buy the latest digital X-ray, which not only emits reduced levels of radiation, but also produces higher resolution pictures, helping to facilitate accurate diagnosis.
Once 'Team Maher' had mastered hiking, it was decided to look to running. A group made up of all ages and abilities, joined another 8000 runners to take part in the Great Yorkshire Run in September. The 10 kilometre run was completed by all of the team, cheered on by charity organisers and many supporters, making it a great day enjoyed by all. Team Maher also managed to raise in excess of £2000 for the charity.
Future fundraising is now being planned!
Maher Ltd, Tel: 0114 290 9201
Website:
www.maher.com
Published in Valve User Magazine Issue 15