Tyco Valves & Controls Launch New Check Valve
Protect Key Components and Increase Efficiency with High-dynamic Check Valve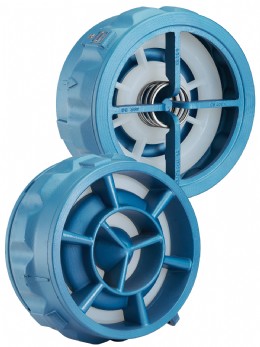 Tyco Valves & Controls Launches new check valve with improved operational capability, extended lifecycle and reduced cost for end users. Using innovative design and engineering with excellent dynamic characteristics, the valve provides increased efficiency by minimising the returned velocity and as such eliminating possible damage caused by pressure surges.
A check valve is considered one of the most critical components for the protection of mechanical equipment and in many systems is often used to avoid returned flow. Damage to pipeline systems can be traced to errors in check valve specification. Incorrect check valve selection can cause serious damage due to pressure surges on pumps, pipes, foundations and other equipment which might be exposed to such pressure fluctuations. The Clasar check valve from Tyco Valves & Controls, launched through its SAPAG brand, has been engineered to reduce the risk of damage to such components.
Through a dynamic, non-slam valve operation, Clasar check valves offer short closing times using a low mass, spring controlled polyurethane axial disc with a short closing stroke. Due to this quick closing action, the valve closes at approximately the same deceleration as the returned velocity.
Due to its high dynamic valve characteristic, the Clasar check valve is perfectly suited for high risk deceleration systems, such as high static head applications or even high-head multi pump units.
Manufactured and engineered for reliability and an extended lifecycle, Clasar check valves ultimately lower the cost of ownership for plant operators through reduced installation and maintenance costs. The Clasar check valve is based on an axial non rubbing disc closing, minimising the maintenance costs and increasing its reliability.
The spring loaded design in particular enables the valve to operate in horizontal, vertical-upstream or diagonal installations. Improved reliability and reduced energy costs of the new Clasar check valves are as a result of large flow capacity and heavy duty design, suitable up to 50 bar, and offer customers enhanced benefits over existing check valve products.
Combined with good corrosion resistance Clasar check valves are suitable for use in a wide range of water applications, including seawater and industrial water processes. The valves are also approved for potable drinking applications to both WRAS and ACS standard and are offered in a wide range of sizes up to DN 1800.
Typically installed downstream of a pump to prevent reverse flow and protect vital pump equipment, Clasar valves can be used in both low and high risk, multiple pumping line applications. René van der Gaag, product manager for special service valves, Tyco Flow Control comments:
"Using clever design and technology, the launch of Clasar represents our latest innovation in check valves and offers a range of clear advantages and benefits to the utilities and process industries. Many of the issues which can affect check valves generally have been designed and engineered out of our Clasar product with the aim of delivering improved operational capability, extended lifecycle and reduced costs for our customers."
Tyco Valves & Controls
Tel: 01858 467281
Website:
www.tycovalves-eu.com
Published in Valve User Magazine Issue 20