Score Europe Expand Support Services
Score Europe open Aberdeen facility expanding their control valve technical and Sales Support Services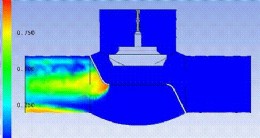 In order to further compliment Score Europe's Control Valve Support services in the Aberdeen area, their Senior Control Valve Engineer, Steve Abel has relocated from their Brighouse facility to a newly opened engineering facility near Aberdeen city centre.
Steve brings with him 20 years of experience in providing control valve technical solutions particularly in the area of severe oil and gas service. Score's control valve overhaul, repair and supply service has been enhanced by a team of technical control valve engineers who provide application reviews, troubleshooting and failure analysis support. Their vast experience is strengthened with the use of manufacturers sizing software and independent software (CONVALTM) allowing detailed analysis of control valve problem areas such as cavitation, flashing, noise levels, energy dissipation, vibration and erosion potential. Once highlighted, these problems are eradicated using combinations of upgraded component designs, superior materials and alternative products.
New to our Control Valve problem solving portfolio is in-house developed Control Valve Trim Sizing Configuration (CVTSC) which allows cage hole patterns to be designed quickly and effectively. The primary objective was to produce a semi-automated method of designing a characterised cage hole development to speed up the process: the manual method can take up to 2 days to complete. The CVTSC, allows the hole structure to be inputted manually while the software methods perform a substantial amount of calculations to determine the capacity Cv and characteristic curve. The hole structure can be quickly modified manually to achieve the desired results. The CVTSC now allows hole patterns to be designed in less than 30 minutes. The results are exported to a geometric 3D modeling package in order to produce the manufacturing drawings.
Combined with Score's industry leading control valve stock inventory, we now have the ability to design and manufacture new internal trims in order to supply our clients with solutions in record time. In October 2011 a valve was selected and picked from stock, fitted with a new trim designed and manufactured in house witness tested, packed and shipped out to the Saudi Aramco Rabigh Refinery in a 3 week window.
We are further enhancing our services in the Finite Element Analysis (FEA) and Computational Fluid Dynamics (CFD) section of our Engineering Group. The suite of packages combined with expert users allows the modeling and analysis of complex mechanical and fluid coupling problems in order to recommend and effect solutions.
Conrad Ritchie Deputy Managing Director said: "Our teams continue to provide industry proven Control Valve Support service and training from both our Peterhead and Brighouse facilities, the creation of this new service in Aberdeen will give our customers a leading edge quality service with fast turnaround complimented by our independent exstock total valve solutions worldwide."
With the addition of Aberdeen as a local base, Steve and his team will provide high quality technical support to control valve users in the Aberdeen oil and gas sector. Steve can be contacted at:- steve.able@scoregroup. com or tel:- 07534 454 025
www.score-group.com.
Score Europe Ltd
Tel: 01779 480000
Website: www.score-group.com
Published in Valve User Magazine Issue 20