Multi-Purpose Safety Relief Valves, for Liquid, Gas & Steam Applications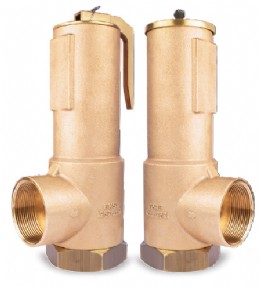 The Seetru LGS® Safety Relief Valve range represents state-of-the-art design with dual guided spindle as well as the Seetru Rock-Seal™ seal technology for repeatable high performance sealing.
The Seetru LGS® safety relief valve is a high quality valve of modular design and construction incorporating the Seetru proprietary compact design technology – providing a highly cost-effective range of valve solutions.
LGS® valves have a robust and reliable construction designed for the widest range of industrial applications. The LGS®range is suitable for a wide variation in flow characteristics, coping with both low volume and high relief capacity applications.
The single trim design means that the components are all common across liquid, gas and steam; and that any LGS® valve can be used in any of these applications.
Features:
• Bronze body with dezincification resistant brass wetted parts; stainless steel spring, spindle and seal retainer
• Supplied with Declaration of conformity, EN 10204 3.1 material certification available on request
• Test certificate supplied free of charge
• Size range DN15 to DN50 (½" BSP to 2" BSP)
• Pressure range: 0.2 to 24 bar g. (steam up to 14 bar g. with PTFE seals, contact Seetru for information on other seals)
• Temperatures -60°C to +200°C with PTFE seals (EPDM -45°C to +140°C)
• Degrease for oxygen available on request
• PTFE or EPDM sealing as standard (other seal materials available upon request)
• Easy to fit spares kit
• Self-draining design
• Adaptors available to give male connections
• Open Lever or Sealed Cap
• Designed in accordance with the requirements of BS EN ISO 4126 Part 1 and CE marked as a Category IV Safety Accessory
• WRAS approved
Applications:
• Hot water, including boilers (vented and unvented) • Steam boilers and steam plants
• Pump and thermal relief
• Bypass relief
• Process liquids and gases
• Pressure vessels and lines
• Heating and cooling systems
• Heat exchangers and industrial cooling systems
• Refrigeration systems
• Refrigeration systems
• Pressure booster systems
• Solar power systems
• District heating systems
• Water supply systems
• Sewage systems
• Pressure control and regulation
• Chemical plants
• District heating systems
• Ship building and marine applications
Tel: +44 (0) 117 930 6100
Email: info@seetru.com
Web:
www.seetru.com
Published in Valve User Magazine Issue 44