Drop Forged Components in UK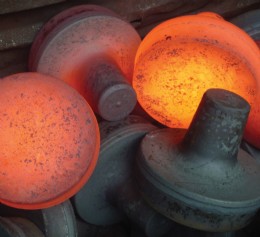 Forging specialist W H Tildesley Ltd (WHT) continues to produce a wide range of components for the oil & gas, petrochemical and process industries
Current products range in size from elbows and tees at a few grams each to parts such as valve bodies and forged flanges up to 70Kg.
We forge parts in a many grades of steel including LF2, stainless steels 316, duplex and super duplex. In addition, we forge in a range of nickel alloys and other non-ferrous metals such as brass, bronze and aluminium.
WHT offers a complete solution for forged components from initial concept, where our Engineers can assist with component design and simulation through to post forge processing, where we can proof or finish machine parts in-house, if required. Using the most up to date CAD & simulation software packages, we can optimise material usage and ensure that our die designs and parts are right first time.
From its base in the West Midlands, W H Tildesley has been serving the oil & gas market for many years and is particularly competitive on small and medium quantity runs. Our commitment to the principles of LEAN manufacturing helps to makes us proficient in setting up to produce just a handful of components, if required by our customer. We also produce higher quantity runs up to several thousand. For some customers we hold stock at our site which then gets called off to schedule or order.
W H Tildesley have been producing components under NORSOK qualifications since 2008. Our M650 Edition 4 QTRs extend until mid-2020. Materials covered are super duplex stainless steels F51 (UNS S31803), F55 (UNS S32760) and austenitic stainless steel F44 or "6Mo" (UNS S31254).
Tel: 01902 366 440
Email: sales@whtildesley.com
Web:
www.whtildesley.com
Published: 2nd May 2018