ASCO 290D & 390D Series of Angle Seat Valves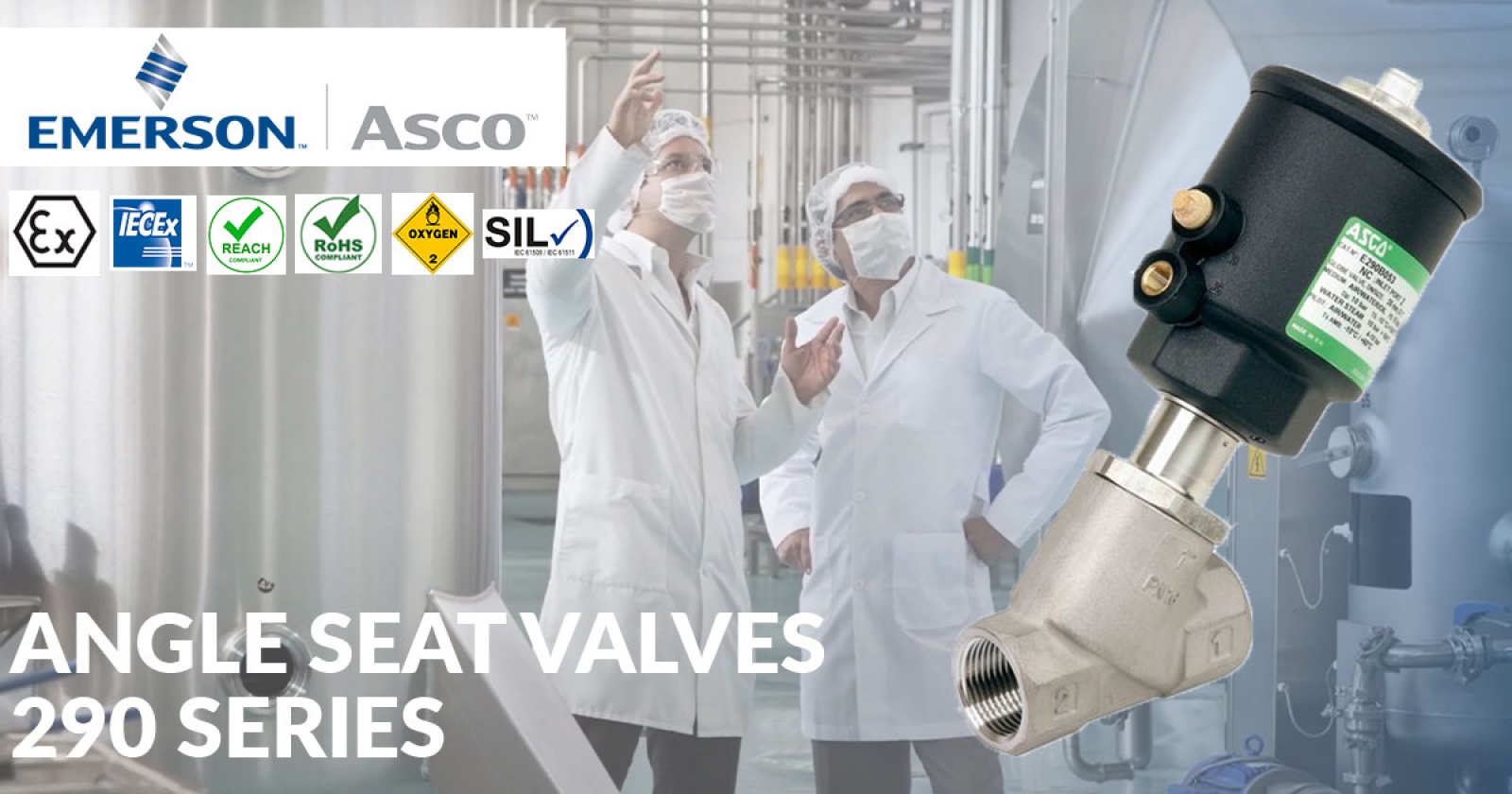 Signalling box with light display
Asco angle seat valves
An approved design
With updated certification including hygienic applications
ASCO 290D & 390D Series of Angle Seat Valves
After 25 years of success, Asco valves are considered as reliable and high-quality products. So, Asco have rethought, re-designed and expanded the 290 and 390 angle seat valve series.
Ideal for controlling the flow or pressure of liquids, steam, air, or other gases- even in aggressive environments, the 290/390 series offers ultimate flexibility.
Designed for harsh working conditions and indoor or outdoor installation, this high-flow and versatile product range can be used to control a wide variety of media types and viscosities.
The 290 and 390 series have been refreshed and expanded with a new design, new functions, new control boxes and new fittings.
Why have ASCO re-created the 290 and 390 range?
To harmonise the 3 generations of previous valves
To expand the range with new functions, new control boxes, new fittings and increase technical characteristics
To develop an anti-corrosion range with stainless steel actuators
So, what's new about the 290 and 390 series?
A new design which includes:
A monobloc disc without nut
Robust stainless-steel body PN40 and PN25
Improved KV and higher differential pressure
New stainless-steel actuator
New bistable function allows fast fluid passage in both directions
New certifications
Laser marking and QR code
New 890 series signal boxes
Valve / actuator combinations available:
Stainless with Plastic
All stainless steel
Alternate valve construction, specifically for oxygen, explosive, combustible and food contact applications
Signalling box options using the 390 Series provides:
High visibility
IP66, IP69K
Mechanical or Inductive options
Communication including I/O (available soon)
What makes the 290 and 390 series special?
Wide range and choices available
2/2 NC, NO, Bistable, 3/2 NC & NO
Choice of port types
Threaded body
Butt weld
Clamp
Flanged body
Your benefits with the 290 and 390 series
Increases process efficiency
Best-in-class flow
High level of differential pressure (up to 25 bar)
Air or water used for piloting
Reduced downtime
Anti-water hammer design
High lifetime
Safe actuator dismantling
No dangerous substances
Reduces engineering time, downtime and costs
QR code provides link to video tutorials, speeding up set up time
Pilot Port 360° rotation without the need for tools
Interchangeable actuators
Compact actuators with smaller footprints help reduce overall machine size
Fugitive emissions certified: Level of external leakage of polluting fluids.
Design is made to last
Click here for further information.
This range of angle seat valves may interest you, or you may want to know more about the series. Email pressureandflow@oem.co.uk or call 0116 427 1392 for technical advice.
| | |
| --- | --- |
| Tel No: | 0116 427 1392 |
| Email: | |
| Website: | |
| LinkedIn: | |
Published: 15th September 2022