Another Amazing Spring Conference!
Formby Hall, 17-18 May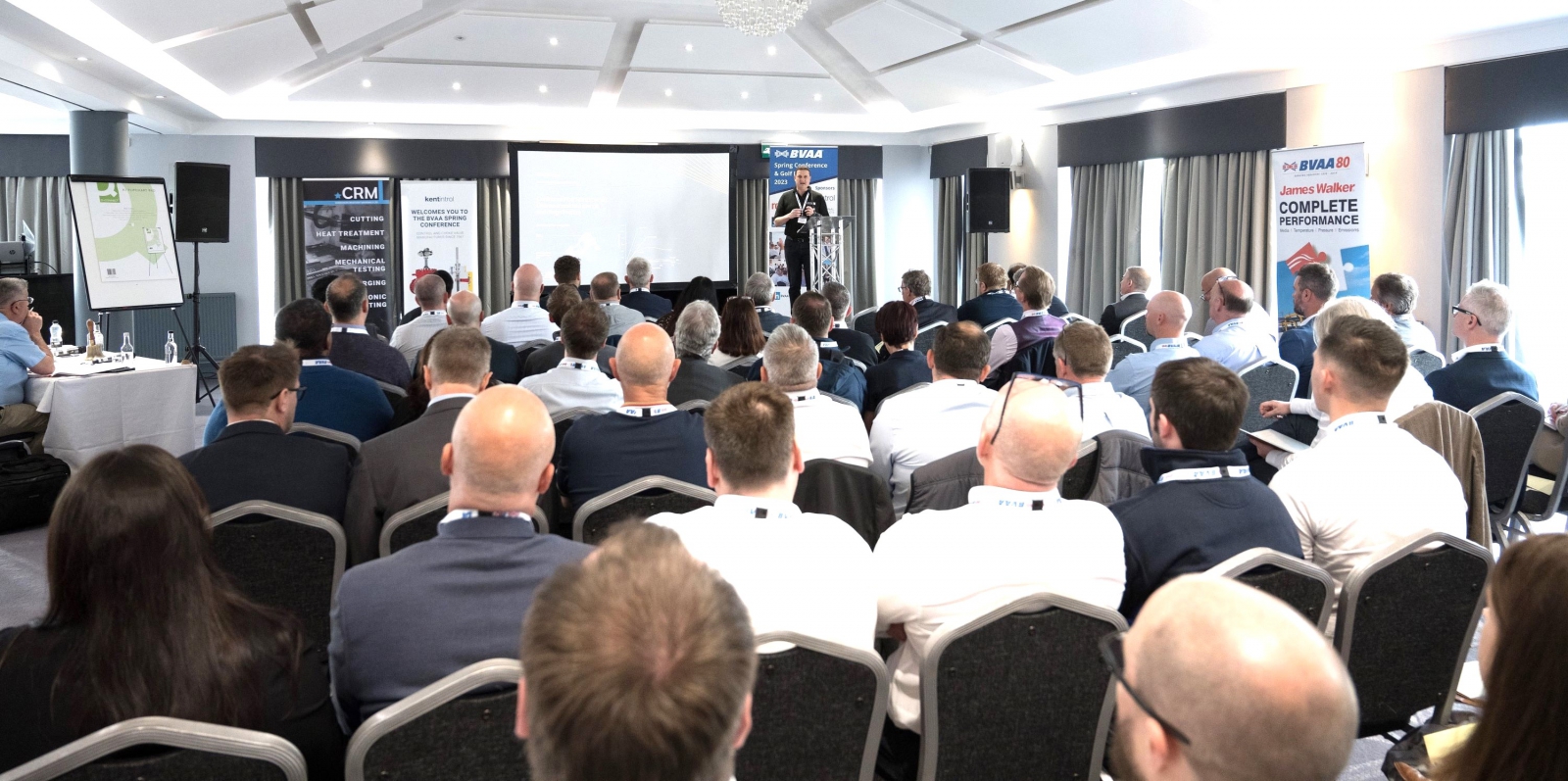 Exhibition and Networking
Nine Keynote Speakers
Sir Geoff Hurst MBE
Stuart Billingham, Tim Bingham, Colin Burns and Phil Minchin.
Each year, the BVAA strives to put together a highly informative, insightful and enjoyable Conference. This means securing excellent, industry relevant speakers, presenting on topics that really matter to our members.
We were thrilled this year to have nine keynote speakers.
This year's Conference began with delving into the world of 'Additive' Manufacturing with papers from Kevin Askew of Additive X, and a real-life application of the manufacturing technique for valve products from Jaipyo Lee, IMI Critical Engineering.
We then had another look into the world of Hydrogen and CCUS, with Nigel Goodrich on where the 'Fit4…' series of standards fits into these emerging disciplines. This was followed by a paper on liquid Hydrogen valve testing from Mark Willey, Framatome BHR.
Our members then heard from Ian Ryan from the Department of Education on the introduction to T Levels, before topical presentations from Raghu Madhavan, SLB, on the case for using readily-available Argon as a test gas.
Later in the Conference, we were delighted to welcome back Bill Cattanach OBE and Sylvia Buchan who discussed growing the supply chain to deliver the new North Sea Transitional Deal. And the day wrapped up with an address from Septon Central MP Bill Esterson, the Shadow Minister for Business and Industrial Strategy.
All of this, plus an exhibition and plenty of networking! Here's a flavour of what our delegates said…
'Really interesting topics delivered by very engaging speakers.'
'Great selection of topics, a good mix of oil & gas industry updates and forward-looking energy transition topics. Particularly relevant to all attendees in my opinion.'
'Very informative of new waves/direction of the industry. Nice that different speakers fed into other speakers.'
'A good spread of topics, all presented well.'
'First time attendee, very good discussions, I am sure we will be back again.'
Celebrity Speaker - Sir Geoff Hurst MBE
Following the Conference, delegates spent the evening relaxing, enjoying a great meal and fantastic entertainment from our celebrity speaker Sir Geoff Hurst MBE! It was an absolute delight to hear from this sporting legend, who is still the only player ever to score a 'perfect' hat trick in a World Cup Final!
Members had the opportunity for a question-and-answer session, and Sir Geoff generously signed a football for auctioning and raising vital funds for charity.
'They think it's all over…but not for our Golfers!'
The next day, our eight teams of dedicated golfers enjoyed the sunshine, and challenges, of the championship Old Course! Congratulation to the winning team, who raised the BVAA trophy - Stuart Billingham, Tim Bingham, Colin Burns and Phil Minchin!
Watch our Video of the Day!
Our next event
Annual Meetings and Gala Ball
24 November 2023
Aldwark Manor Estate, York
If you would like to sponsor, book your place or find out more visit: https://www.bvaa.org.uk/event-details.asp?id=3
Published: 30th May 2023