Innovation Showcases
In November 2011 BVAA held two more of its renowned 'Innovation Showcases' for major clients and customers of the valve and actuator industry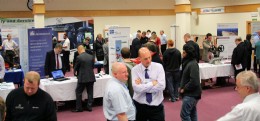 Amec London
On 8th November, 14 BVAA members played host to over 60 Amec staff and guests at the company's Old Street, London offices. This is the sixth such exhibition Amec have hosted in recent years, alternating between their Aberdeen and London facilities. As an added bonus the two exhibition rooms were on the Clair Ridge project floor, resulting in surprise visits from a number of interested BP staff.
Score Europe Peterhead
On 15/16th November, BVAA were hosted once again by Score Europe at the impressive VITAL facility in Peterhead. Now a bi-annual occurance, this Innovation Showcase event started with a dinner the evening before, generously sponsored by Score Europe themselves. The following day twenty-four BVAA members received over 130 Score staff and customers, each member displaying an innovative new product, service or initiative. A full report is given on page 48.
Meetings Timetable
BVAA has announced a number of committee and working group meeting dates for the spring. These include: -
• Seals WG: 6th March 2012, BVAA HQ
• Valve WG: 8th March 2012, Castings Technology International
• Actuator WG (with BSI PSE/18/5): 27th March 2012, BVAA HQ Banbury
• Steering Group: 14th March 2012, BVAA HQ
•Executive Committee: 15th March 2012, BVAA HQ
Spring Training Dates We are delighted to announce that the Spring 2012 Training dates are:-
• Introduction to Valves - 16 April
• Introduction to Valve Actuators - 17 April
• Control Valves - 18 April
• Safety Valves - 19 April
• SILs - 20 April
• Managing Commercial Risk - 23 April
• PED/ATEX - 24 April
• Basic Seals - 25 April
• Intermediate Seals - 26 April
A reminder that BVAA members receive a 30% discount on most courses. Also that our expanded facility at Banbury means that we can accommodate many more students than before (and discounts are therefore available for bulk bookings).
Bespoke Courses
BVAA is working with one of its members to introduce a valve training programme for the company's new starters, and a non-member organisation is looking to bring their team back a second time for some additional training on safety valves. BVAA would be delighted to tailor a training programme to meet your needs, either at BVAA HQ or at your own facility. Just give us a call to discuss the options available. See the webpage below for further information or contact Karen@bvaa.org.uk.
www.bvaa.org.uk/training_courses.asp
ACHEMA Exhibition
BVAA will be attending ACHEMA – The world exhibition congress on Chemical Engineering, Environmental Protection and Biotechnology, held in Frankfurt, Germany.
The next Issue of Valve User (Issue 21) will be our main hand-out at the show, members be sure to submit copy by May 1st to secure your position in our ACHEMA Issue.
Please visit the BVAA stand at Hall 9.0 Stand A69
BVAA Group Stand at Valve World 2012
We are delighted to announce that BVAA and our American equivalent VMA will be representing five industry specialists as part of our Group Stand at the Valve World exhibition in Dusseldorf, in November. Our associates include: Maher, Total Carbide, Mogas, Dynamic Ceramic and DFT, Inc. We have a prime position in Hall 4, Stand C21 and BVAA are hoping to once again host an evening reception event on the first evening of the exhibition (27th November.)
Published in Valve User Magazine Issue 20